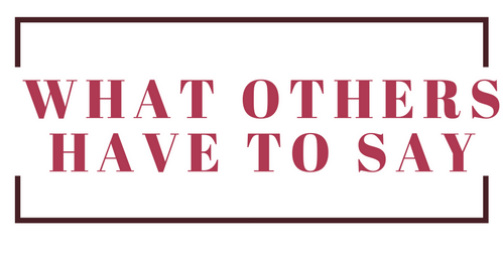 MACK

We have an older Golden Retriever that never had formal dog training. It took two years before she mellowed out enough to let me leash walk her, and the puppy years were...difficult. She was mouthy with my then pre-school age children and a bit of a menace. Eventually she settled down and turned into a great dog. Cut to 8 years later and we decided to get a puppy, I knew this time around I didn't want to wait 2 years to have a "good dog." I contacted Miss Behavior before our puppy even came home, she sent me tons of information on how to get started with training, and what to expose our puppy to so that he would be well socialized. We started training early, before any problem behaviors started and with Miss Behavior's help, we now have an almost month old puppy who will do anything asked of him (even walk on a treadmill)! He walks like a little gentleman on his leash, waits for permission to eat, can spend time easily in his crate or even out of his crate when we are away, and he even has a couple of neat party tricks to show off! He's still a puppy and still gets excited and mouthy at times, but so much less than our first dog ever did. This training has been an investment in our future with this puppy and Miss Behavior is magic with dogs. She has a way with dogs and speaks their "language" and makes training so much easier and more effective! 5 Stars for sure!

---
---
KONA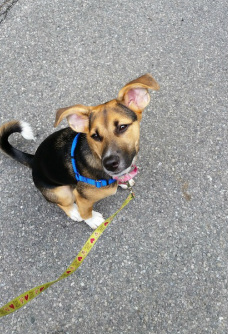 We adopted our rescue puppy, Kona, in early May. To say she was a handful would be an understatement! I was at my wits end as I couldn't house break her and she had become extremely mouthy with my 8 year old son, sending him to tears and I could see he was starting to be fearful of the pup. I simply had NO CONTROL whatsoever!

We were doing training at a local chain pet store, but I found it to be stressful for both the dog and myself. She was not in her own environment so it was tough to get her to concentrate and to settle down with all the other dogs around.

A friend at the gym told he to check out Miss Behavior. I checked out the website and some videos, I was in awe of what these dogs were doing so I reached out. Miss Behavior did her initial consult with us and I immediately saw a difference. I was able to start understanding Kona's body language and the signals she was giving me. The fact that she'd stop and itch every time I took her for a walk wasn't because she was itchy- it was because she didn't feel like walking… Miss Behavior showed me how to overcome these and how I could gain so much with the positive reinforcement (treats). We worked on those skills for a few weeks and then brought Miss Behavior back for some day training. Kona is such a great companion now, she's respectful on a leash, she will wait for food, drop something when told and she has some fun tricks she can do. I was able to learn that my dog wants to please and that she's eager to do so, but I had to learn to speak her language. Miss Behavior is amazing and we will continue to use her services.

I would HIGHLY recommend Laura (Miss Behavior) to anyone looking for some help in training your dog. I was at the end of my rope and even in tears over this dog and just a few sessions with Laura really changed our lives. My kids love our dog and are no longer afraid that she might nip them. She's truly become part of the family and we adore her.


---
---
FENWAY and OLIVER
We can't say enough good things about Miss Behavior! We had our 2 "boys" for 6 years before we had our twins. They were spoiled before the kiddos came along, and my husband and I needed help letting the "boys" know the kids came first!
After one session with Laura, we are all much happier!
---
CHESTER
Miss Behavior is knowledgeable and has an amazing ability to connect with the dogs she trains. She has the patience and expertise to be successful with the animals, and their owners, which is a very important part of her success. I would highly recommend her!
---
ABBOTT and BAXTER
Laura is extremely knowledgeable and amazing with dogs!! She is, in my honest opinion, the best trainer around!! My 2 boys adore her!
---
GRIFFIN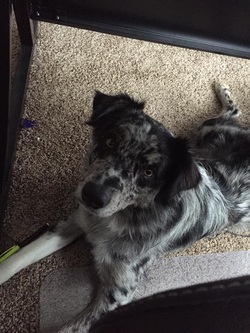 We adopted a 1 year old Aussie mix that grew up with no boundaries and very little training. He was some what of a handful. Laura helped us learn the proper methods to help train our boy. He will now wait at the door when told (instead of booking it for freedom), knows all basic commands and is getting better with manners. A lot of other things have fallen into place since we started training without specifically working on them. He now respects our cats space, does not beg and does not chew on things he's not supposed to! It's great having a well-behaved dog. We recommend Laura, she is great with our dog and offers a lot of great skills for not only our dog, but us! - Tim

---
---
STOUT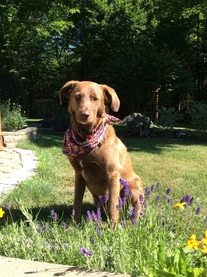 Laura is the reason why we have a well behaved rescue dog! When we adopted Stout, a chocolate lab/golden retriever, he was 1 1/2 under weight, and had heartworm. We figured Miss Behavior would be a great help to us to get Stout settled in to our family. Boy were we right, she gave us so many helpful tips and within 1 month we were feeling so at home with our boy. Today, 1 year later, we couldn't ask for a nicer pooch. We will be meeting with Laura again just to touch on a few walking manners. My husband and I highly recommend Miss Behavior!

Thank you so much for your help, what a difference it has made. Life is good with a well behaved dog.


---
---
REMI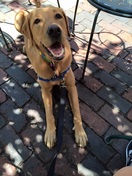 Laura is so knowledgeable about dogs and their behaviors.
Remi and I learned so much from our private session.
I highly recommend her!
---
---
DAISY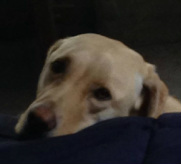 We could not have handled Daisy's quirks to her personality
without Laura's insight and guidance. Working with her instead of
trying to change her was key. Helping us choose the right harness
made walking so much more fun. Thanks Laura!
---
---
VEGAS and ACE
Hi Laura,
Things are still amazing with Vegas and Ace! They get along so well now that they eat next to each other, still ride fine together in the car, venture around the yard together, and they can both lay next to each other while we are on the floor playing with them or rubbing them. We can even leave toys around the house and neither one is really possessive over them. Ace still loves sleeping in his den (crate) at night. We don't shut their doors or anything at night, so they can come and go as they please. Vegas mostly prefers spreading out on a doggie bed we have on the floor in our room, near Ace's crate, as opposed to sleeping in her own crate. But they actually take turns with the bed as well, which is awesome!

They have had one scuffle since we last saw you, but both Jim and I kept our cool, Jim stepped a few feet away to grab the Pet Corrector* bottle to break it up, but they stopped fighting on their own after a few seconds. Ace was not hurt at all and Vegas only had a few minor scraps on her ear. Basically, we can definitely see that Vegas has learned that if she is uncomfortable she just needs to growl and not bite. We still follow your instructions and if she growls we tell her all done and walk away. Also, we still enforce the no pets allowed on furniture rule!

We had my niece and nephew up for the summer and the dogs still got along great, even with new leaders thrown into the mix! The dogs were proud to show the kids the new tricks they had learned since last summer and the kids even got to do some trick training with them! Walking with them is good, we definitely don't feel like we are getting dragged along by them anymore! They don't go crazy when they see other dogs, we even have a dog that tends to follow us down the road and even bark at us and Ace could care less and Vegas just gets a little excited but doesn't get aggressive.

Before I felt like we were always tense and worried about dog fights, but since learning from you, it has changed our attitudes and energy and has made everything better for our entire family, both the two legged and four legged members!!

When I think back on our training time with you it still amazes me how much you taught us in just a handful of sessions and how much it truly paid off! If there is anything else I can do to help please let me know. Any time dog behavior issues come up in conversation I always share with people the positive training experience we had with you!


---
AUGUSTA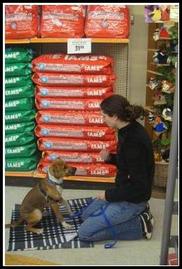 My husband and I are first time pet owners and Laura has been a tremendous help teaching us how to train our rescue puppy, Augusta. Laura is a wonderful teacher and emphasizes the importance of owners learning with their dog to build confidence and a strong bond in a positive manner.

Augusta loves "Miss Behavior" and we have all benefited from completing the STAR puppy class as well as in-home consultations. The puppy class provided great socialization and general skill training while the in home consultations have been invaluable for working on dog, owner, and space specific issues.

Laura is generous with her knowledge and time, creative, thorough and positive in her approach to

dog training—she seems to have a sixth sense that helps her communicate with both dogs and people in a very productive manner! Thank you! You've been invaluable for working on dog, owner, and space specific issues.


---
---
GOLDIE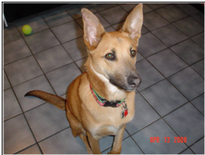 We cannot say enough good things about Laura and her dog training abilities. She took a untrained, normal, excitable puppy and taught us to train her to become a certified Canine Good Citizen and all around good puppy. There was no training issue we had that Laura did not have a solution for. Training a dog is easy (once you know what to do). Training the owner is more difficult. Laura is excellent at both. Her training has greatly enhanced the bond between us and Goldie. Because she is so well behaved, Goldie is welcomed openly at family and friends houses as well as hotels. We would highly recommend her for any of your dog training needs.
--- Dale and Karen - Goldie's Mom & Dad
UPDATE: "As of 10/25 Goldie is now and AKC Certified Therapy Dog thanks to Laura's training. Goldie can now visit nursing homes, cancer centers, and libraries"


---
---
REESIE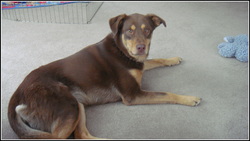 I just wanted to reiterate what a pleasure it was to meet you today. My time with you was invaluable....I learned so much and you helped me feel more confident about what I'm doing! One of the qualities I liked about you is that you actually listened to what I had to say....I've spoken with other trainers who have their own agenda. I felt that all you offered to Reesie & me was "tailor made"! I predict you'll be so busy you'll have to turn people/dogs away!!!

And thanks so much for the boost of confidence you have given me! I felt as tho' a weight was lifted off my shoulders....the anxiety starting to "melt" away!


---
---
Some more cute clients